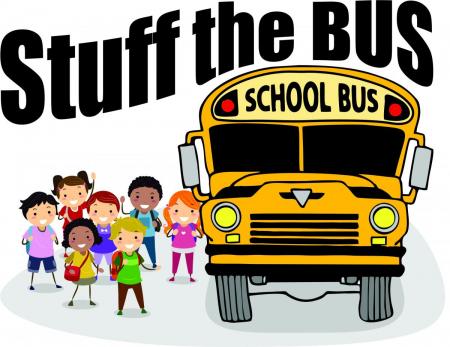 The 2022 Stuff the Bus School Supply Drive collected and distributed over 56,000 school supplies to approximately 3,000 local K-12 children at 22 local schools within our service area.
THANKS TO ALL who supported this initiative in any way, whether it was donating supplies, volunteering to help, collecting supplies and/or making a financial contribution.  This wouldn't be so successful with the myriad of people who support local children.
Families in need of supplies should contact their school district directly regarding distribution dates/process, as this varies from district to district.
Would you like to support Stuff the Bus?
Cash or check donations can be mailed to United Way of Southwest Minnesota (UWSWMN), PO Box 41, Marshall, MN 56258 - note "Stuff the Bus" in the memo field.

Credit card donations can be made through our secure online giving platform by clicking here.
CLICK HERE for a list of supplies we typically collect and distribute.
CLICK HERE for a list of schools that received supplies in August, 2022.

CLICK HERE for a list of collection locations - places where you can drop off your donation of new school supplies.
The purpose of our Stuff the Bus initiative is to provide K-12 students with the basic school supplies needed to learn and be successful, thereby allowing them (and their parents) to focus on their academic goals. When students are provided with the tools that they need to be successful in school, it eases many burdens. Children can focus on their studies without worrying about having a pencil or a notebook and parents can have some of the financial burden lifted off their shoulders. When UWSWMN provides these supplies through Stuff the Bus, we are making an impact that goes much further than school supplies. We're alleviating stress, building confidence, and helping students thrive. 
This initiative is offered to all schools throughout our service area and engages numerous volunteers.  Collection barrels and containers are placed at various locations throughout our service area. Local workplaces hold collection drives and are provided with specific goals of supplies to collect. UWSWMN staff then determines what supplies will need to be purchased to fulfill the need based on data received from the schools and trends from past years. 
School supplies provided include: backpacks, colored pencils, crayons, eraser toppers, expo markers, folders, glue bottles and sticks, hand sanitizer, headphones, highlighters, index cards, tissues, markers, notebooks, pencil boxes, pencils, pens, pink erasers, rulers and scissors. Other miscellaneous supplies that come in through the donation containers are also distributed to the schools. Dozens of volunteers then came together to sort, pack, and load the school supplies.  NEW DISTRIBUTION LOCATION!  In August, 2022 the distribution was held at the Merit Center located at 1001 W Erie Road, Marshall, MN.  School representatives picked up the supplies for their school and managed distribution to their neediest students in a way that worked best for their district, as there are many multi-town and multi-building districts within our service area.