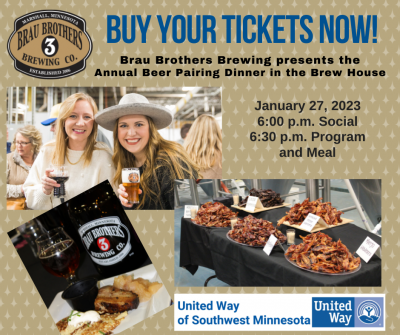 Visit Marshall is a sponsor for the 2023 Beer Pairing Dinner.  Thanks!
Join us at Brau Brothers Brewing Co. for a fun-filled culinary evening as Dusty Brau guides us through a five-course beer pairing menu. Each course will feature a delicious pairing with one of the Brau Brothers beers.  In addition, there will be silent auction items, the prize vault, and the tapping of the Firkin.
Don't wait to purchase your $75 ticket, as seating is limited, and this event has sold out quickly in past years. Tickets can be purchased at the United Way of Southwest Minnesota office (800 E Main Street, Marshall, MN) or click the link below to buy online.  Due to the popularity of this event, we will not be holding tickets. To make sure you have a spot at this premier event, make plans to purchase your tickets now. 
This event is made possible by Brau Brothers Brewing Co, Visit Marshall, and United Way of Southwest Minnesota. All funds raised will support the local work of United Way of Southwest Minnesota.
* * * * * * * * * * * * * * * * * * *
ANOTHER GREAT BEER PAIRING DINNER IS IN THE BOOKS!
The 2022 Brau Brothers Brewing Company Beer Pairing Dinner was held to benefit the United Way of Southwest Minnesota on Friday, January 21, 2022 beginning at 6:00 PM at Brau Brothers Brewing Company at 1010 East Southview Drive, Marshall in the Brew House. 
The event included a five course meal with each course featuring a different Brau Brothers' beer that complemented the delicious food items. A Brau representative presented about the traits of each beer served and shared insight on the bottling process. The event also featured an eclectic silent auction.
All funds raised at this event will support the local work of United Way of Southwest Minnesota. UWSWMN works to improve lives and strengthen communities throughout their service area.
Thank you to all who came out and attended our 10th annual Brau Brothers Beer Pairing Dinner 2022 at Brau Brothers Brewing Co. this year.  It was wonderful to see you all!
Congratulations to our Prize Vault winner, Kurt & Jamie Gillund, who won a $500 gift card and growler to Brau Brothers! 
A special thanks to Brau Brothers Brewing Co. for all of their hard work in hosting this event.  From the creative and delicious food and beer pairings to the outstanding service, you continue to amaze us! 
Thank you to our MC, Ben Alcorn, for leading us through the evening.  Ben had the crowd laughing numerous times throughout the evening.  
Thank you to Graceful Willows Photography for the wonderful photos! Thank you Clear Creek Cabinetry for the Minnesota ornaments for each guest! 
This year's silent auction was one to remember featuring many one of a kind items, fun combinations and experiences. Thank you to those that donated to make the silent auction possible! 
Finally, thank you to our committee members for all of your work in preparing for this fun event!
Cheers! ?
1. If you would like to see more photos from the event, go to our Facebook page.
2. If you would like to be added to next year's "pre-sale" email list, please email us at UnitedWay@UnitedWaySWMN.org.