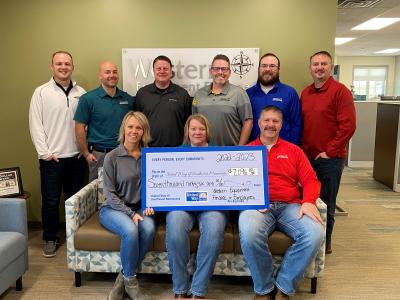 The Western Equipment Finance team held their workplace campaign to benefit United Way of Southwest Minnesota (UWSWMN).  CEO Meg Louwagie joined this game-playing group for their kickoff breakfast earlier this fall to tell them more about the local work of UWSWMN.  Louwagie answered questions, learned more about their team, and toured their office space.  
This year they set their goal high and busted through it with 100% employee participation.  Employees contributed $3,548.00 through payroll pledges and donations.  Western Equipment Finance made an additional contribution of $3,548.00 for a total campaign of $7,096.00.
Western Equipment Finance is a full-service commercial equipment finance company based out of Devils Lake, ND, with an office in Marshall, MN.  They offer conventional finance and lease options throughout the U.S. and franchise industry programs through Western Franchise Financing.
UWSWMN is honored to have Western Equipment Finance as part of our local workplaces holding a UWSWMN campaign.  We are grateful for the continued support from their local team members and Western Equipment Finance.  UWSWMN thanks Western Equipment Finance for supporting us and working together to go further.
United Way of Southwest Minnesota fights for the health, education, and financial stability of every person in every community.  In southwest Minnesota, we focus on health, education, financial stability, hunger, and safety & well-being.
For more information about the work of your local United Way, please visit our website at www.UnitedWaySWMN.org.
Photo back row L to R:  Alex Pohlen, Derick Walker, Chris Kidman, Jeff Leibfried, Kane Fossell, Hans Zahrbock
Sitting L to R: Deb Schnaible, Amy Page, Quentin Brunsvold
Not pictured: Abbie Boelter and Josh Kiley
United Way of Southwest Minnesota is an autonomous, local organization working to create lasting change in people's lives and the communities we serve in Lincoln, Lyon, Murray, Yellow Medicine and portions of Cottonwood, Lac qui Parle, Nobles and Redwood counties of Minnesota.
#