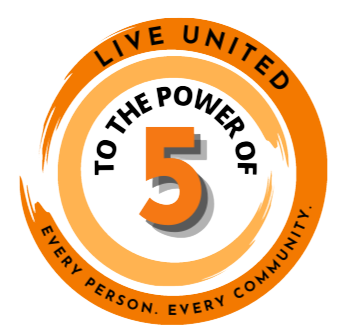 United Way of Southwest Minnesota (UWSWMN) has kicked off our annual fundraising campaign, and this year's theme is Live United to the Power of 5.  The Power of 5 shows the value of community and that every effort can go much further by working together.
Supporting your community can be as easy as a $5 donation, giving 5 hours of your time, or inviting 5 people to volunteer with you to maximize the impact.
Could it be that simple?  Can $5 make that much difference?  YES!  When we work together, a donation of $5 can be so much more than the face value.  $5 could:
•    Provide one child with a new backpack with school supplies to start the school year with UWSWMN's Stuff the Bus school supply initiative.
•    Supply the paper to print 25 tax returns for low-income people with United Community Action Partnership Volunteer Income Tax Assistance Program.
•    Purchase 500 pounds of fresh potatoes from Second Harvest Food Bank by United Community Action Partnership Kitchen Table Food Shelf.
These are just a few examples of needs in our communities.  UWSWMN is working with our community partners to fund critical programs that are a vital safety net to make a difference in the lives of local people.  When we work together, we make our communities stronger and provide support like:  
•    Meals on Wheels delivery to home-bound senior citizens 
•    24-hour domestic violence support
•    Student literacy tutoring in local schools
Because of donations from many individuals, corporations, and businesses, UWSWMN can help support these available and thriving programs throughout our service area.
Join us and get involved by donating today either PayPal.Me/UWSWMN, online at www.unitedwayswmn.org OR by mail to PO Box 41, Marshall, MN 56258.