THE GRUFFALO WALK 2022
THE WINNER HAS BEEN CROWNED!
That's a wrap!
The second annual Gruffalo Walk head to head fundraising competition has come to an end. This year Lockwood Motors vs. Kruse Motors teamed up to raise over $2,600.  Maxx Louwagie of Team Kruse dressed as the Gruffalo and made the walk down East College Drive to Main Street on the warm and blustery Wednesday afternoon of June 29, 2022 ending at the Wooden Nickel.  He was accompanied by Al Castor of Team Lockwood.
The Gruffalo Walk has raised over $4,800 in the past two years to support the United Way of Southwest Minnesota (UWSWMN) Stuff the Bus initiative that helps provide local students with basic school supplies.  This year supplies will be distributed to 23 schools within our service area so that students and their families can more easily focus on their academic success.
UWSWMN would like to thank everyone who supported this event, especially Lockwood Motors and Kruse Motors for their generosity and willingness to participate in the Gruffalo Walk. 
HISTORICAL
United Way of Southwest Minnesota (UWSWMN) is excited to announce the Lockwood vs. Kruse competition to raise money for the Stuff the Bus initiative.  A member from the team that raises the least amount of funds will wear the gruffalo costume as he walks down East College Drive and Main Street.  The gruffalo character is based on a beloved classic children's book by Julia Donaldson, which has been distributed locally as part of the Imagination Library book program.  
Meet the contenders
Team Lockwood Motors - Al Castor is top salesman of 2021 and also serves on the UWSWMN Board.
 
Team Kruse Motors – Maximillian Louwagie is top salesman of 2021 and is also the son of UWSWMN CEO Meg Louwagie.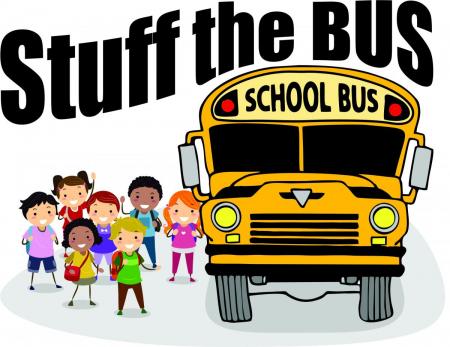 The Stuff the Bus school supply drive is coordinated by UWSWMN and includes distribution of school supplies to those public, private and charter schools throughout our service area that have applied for them.  The purpose of this initiative is to provide K-12 students with the basic school supplies needed to learn and be successful, thereby allowing them (and their parents) to focus on their academic goals.  Visit our website to learn more about upcoming dates, drop-off locations and volunteer needs for Stuff the Bus, www.unitedwayswmn.org/STB. 
Donations to support Team Lockwood or Team Kruse were accepted through 8 a.m. Wednesday, June 29th.   
Once you've supported your team financially, make plans to join us on Wednesday, June 29th to honk at the "winner" as he walks down East College Drive and Main Street that afternoon.  Route and time will be announced via social media.  Join Team Lockwood and Team Kruse for drink and food specials at the Wooden Nickel from 4:00 p.m. – 6:00 p.m. at the conclusion of the walk.  Door prizes will be drawn at 5:30! 
CLICK HERE to learn more about our Stuff the Bus school supply initiative.